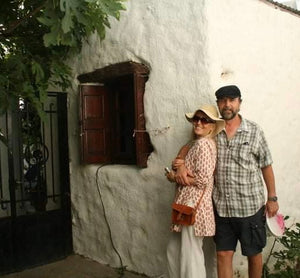 The Garden Collection - The. Story and Inspiration from a Faraway Island
Long ago and far from here, I met a young man from Wales in a youth hostel on the island of Crete. I had wandered into the rustic communal kitchen where he and a friend were frying eggs in olive oil. As kitchens make great gathering rooms, this kitchen was no exception, and we spent the evening reciting Monty Python and breaking off chunks of village bread (psomi) to eat with the eggs. The young man from Wales won me over with his wit and charm, and since there were no forces pulling either of us off the island, we stayed on for a couple of years in the quiet southern village of Myrthios. For visa extensions and other business, we frequently traveled across the island by bus to Rethymnon, it was our nearest big city. I only tell you this because it is in Rethymnon that this story begins.

We loved our extended visits to town. Rethymnon has a charming 16th-century Venetian fortress on the west end. We'd poke around the crumbling towers looking out over the sea, never a soul around and never tiring of the climb up to it and the views from. We also had a favorite lunch spot tucked in behind the port, two or three tables, that served fasolada - a brothy bean soup made with fennel and cooked over dried olive pits. We've given up trying to duplicate it; we've settled into our own version and will always wonder if cooking over olive pits contributed to the savory flavor in any way. Evenings were often spent at Niko's cafe on the seafront. Niko would play Pink Floyd and The Beatles for our small crowd, his brother, Zachariah, would serve us ouzo and raki with tiny bowls of roasted chickpeas. We'd play backgammon with the locals and an international crew of regulars who'd drop in, like us.

Decades later, memories of Rethymnon remain dear to us, especially these. Still, my top spot was the town's municipal garden in winter. Imagine a park filled with citrus trees, welcoming benches, and gravel pathways in the center of town surrounded by stone walls with rustic openings and black iron railings on its four sides. It was a different world inside these walls; it's where the pace of Rethymnon slowed. It felt peaceful, and in winter, the large square full of citrus trees drooped with large orange, pink, and yellow fruits. Fruit dropped to the ground and lay there to rot; it was that plentiful. Everyone was free to pick as they pleased. There were enough oranges, tangerines, lemons, and grapefruits for everyone. This garden is where I grasped my whole hand around an orange and peeled the skin back in one fell swoop, which apparently made a lasting impression on Mr. Mason, the young man from Wales. This peaceful old garden was well-loved, especially by me, and it's the inspiration for The Garden Collection with additions of citrus, its pink grapefruit, orange blossom, and lemon.
Top photo: Myrthios Village 2013
Photo credit: @michelewehden
-Mr. Mason and me revisiting our old house on Crete-
Thank you to Michele for graciously digging through her photos for this shot of us when I wasn't able to access to my own Crete albums
---