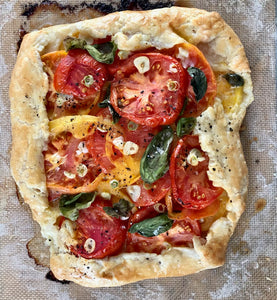 Jenny's Savory Heirloom Tomato Galette Recipe
  
Galette Pie Dough
Ingredients
2 1/2 cups all-purpose flour
1 teaspoon salt
1 cup (2 sticks) unsalted butter, chilled and cut into small pieces
1/4-1/2 cup ice water
 
Directions
Combine flour and salt.

Add butter and process with a pastry cutter until mixture resembles coarse meal (8-10 seconds in a food processor).
Form dough by hand or with machine:

By hand: add ice water a little at a time; until dough holds together without being wet or sticky.
By machine: With the machine running, add ice water in a slow, steady stream through the feed tube. Pulse (chop) until dough holds together without being wet or sticky; be careful not to process more than 30 seconds. To test, squeeze a small amount together; if it is crumbly, add more ice water, 1 tablespoon at a time.

Divide dough into two equal balls. Flatten each ball into a disc and wrap it in plastic. Transfer to the refrigerator and chill for at least 1 hour. Dough may be stored, frozen, up to one month.
 
Heirloom Tomato Galette
Ingredients
1 1/2 lbs. heirloom tomatoes (sliced 1/4 " thick)
2 cloves garlic (thinly sliced)
Heaps of fresh basil leaves (torn)
1 1/2 cups grated strong cheese (I like manchego, sharp cheddar, feta)
2 green onions (thinly sliced)
1 teaspoon sea salt 
Freshly ground pepper to taste

Directions
Preheat oven to 400 degrees F
Toss tomatoes in a large bowl with garlic and salt. 

Allow to sit for about 5 minutes, then drain off liquid.
Spread tomato slices and garlic onto paper towels.
Unwrap the parchment paper covering the 

galette

 dough and lightly sprinkle flour on top of the dough and roll out to a 14" round.
Spread grated cheese evenly onto the dough round, almost to the edges.
Arrange tomatoes, garlic, basil leaves, and green onions in a circle evenly over dough, leaving a 1 1/4" border.
Lightly sprinkle salt and freshly ground pepper over tomato filling.
Fold dough over the edge to create the border (overlapping is fine).
Brush border dough generously with egg wash.
Finish with sprinkles of salt flakes on top of egg wash on the dough border.
Chill in the freezer for 10 minutes and bake at 400 degrees F for approximately one hour, checking after 50 minutes.
---